This product is a renewal for those who already have our OSHA Online Compliance Basic package.
Our OSHA Online Compliance Basic package is a flexible and cost-effective way to train your employees on workplace safety and health hazards and get the compliance you need. This online occupational safety program provides all the necessary training to make certain your practice is compliant with the latest OSHA rules and regulations.
Improve safety in the workplace. The OSHA eCompliance Basic Program has all the information you need to train your team on the basics of occupational safety and health, including a copy of your OSHA compliance manual to keep you in compliance. This online training program offers you the flexibility to access OSHA training whenever you need it. Educate your team, reduce hazards, and stay OSHA compliant, all whenever is convenient for you.
This package includes 50 seats. Additional seats are $6 each; if you need more than 50 seats, please select the number below.
The OSHA eCompliance Basic Package renewal includes:
50 seats for online OSHA training for employees
Safety Officer webinar training
Paper OSHA compliance manual (online available upon request)
Online forms
Continuing Education credit is available
The Advisor: monthly newsletter on the latest changes and reminders for healthcare practice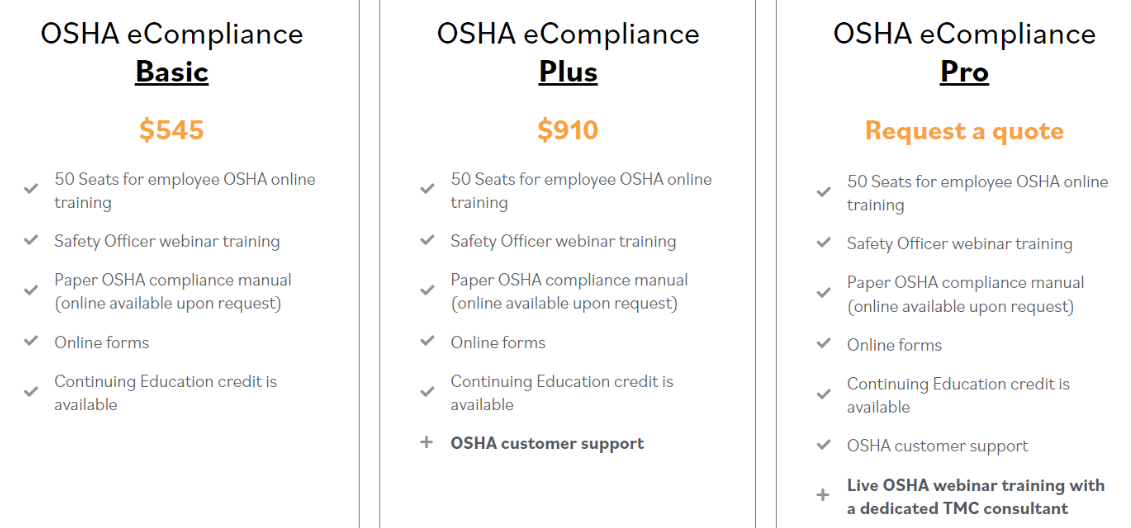 *All seats for this course expire one year after the purchase date.
*Continuing Education credit is available
*1 seat per license is considered one launch; once this course is launched, it may not be reused.
*Each user must complete the course and post-test (where applicable) individually; this is not a group course.
Please make sure your OSHA officer is available to answer your questions while completing the online training course. TMC experts are available to answer CONTENT questions during regular business hours: service@totalmedicalcompliance.com.
Not an OSHA eCompliance basic client yet? Click here for the product package for new clients: https://totalmedicalcompliance.com/product/osha-ecompliance-basic-package/