North Carolina Dental Society

Total Medical Compliance is an endorsed partner of NCDS providing a full range of programs customized to meet the OSHA, HIPAA, and Infection Control compliance and training needs of North Carolina Dental Society members.
TMC is an endorsed partner for your OSHA, HIPAA, and Infection Control compliance needs. Not only do we provide compliance for these three programs, but we also provide Dental Radiation Safety Manuals for North Carolina Dentists!
Compliance Information and Best Practices
Total Medical Compliance will keep you up-to-date on the latest OSHA, HIPAA, and Infection Control compliance information and best practices. Never has it been so easy to find the latest OSHA and HIPAA compliance information. We are flexible and can find an option that works best for your practice.  You can choose the benefits of an on-site program and have an experienced consultant inspect your facility and provide on-site employee training for your team. Or you can choose the convenience of an online employee compliance training program for your staff supported by our OSHA and HIPAA compliance Client Service Team. We offer training webinars on compliance topics of interest to NCDS members – OSHA, HIPAA, Infection Control/SPICE, officer training, and others.
Benefits of Being an NCDS Member
Access to our TMC client complimentary *ADA CERP CE webinars. Use coupon code ncds49
A 10% discount to NCDS members who sign up for a NEW full-service HIPAA compliance service in 2021!
A 10% discount to NCDS members who sign up for a NEW full-service OSHA compliance service in 2021!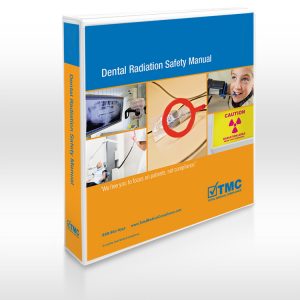 Additionally…
Updates to our Dental Radiation Safety Manual are now available! Total Medical Compliance provides Dental Radiation Safety Manuals that can be customized to fit your office protocols, and you will have access to important forms. North Carolina requirements that are specific to Nomad use and tomography (3D imaging). As rules and regulations change, we will provide you with manual updates to guarantee the most recent information.
Read more about our Dental Radiation Safety Manual…
Receive a
$50 discount
on our NC Dental Safety Radiation Manual if you are an
NCDS
member!   
Use coupon code:  NCDS50
TMC also saves our clients money and time by providing:
Chemical labels for products not in the original containers as required by OSHA
Providing reduced-cost electronic SDS manuals
Convenient online employee training programs to minimize lost patient time
And more…
Find the solution right for you:
Electronic Compliance Manuals
eCompliance Program
OSHA Compliance Program
HIPAA Compliance Program
Online Training
Infection Control Program
Online Store

ADA CERP is a service of the American Dental Association to assist dental professionals in identifying quality providers of continuing dental education. ADA CERP does not approve or endorse individual courses or instructors, nor does it imply acceptance of credit hours by boards of dentistry. Concerns or complaints about a CE provider may be directed to the provider or to ADA CERP at www.ada.org/cerp.