In case you haven't heard, we have a record number of measles cases documented in the US. At this point over 700 cases in 22 states have been reported, which is the highest number of cases since 2000, the year the disease was reported eliminated.
Healthcare workers are considered at risk for exposure. Have you documented the immune status/vaccines for at-risk workers in your practice? The following are acceptable documentation criteria from the CDC.
Written documentation of adequate vaccination:  two doses of measles-containing vaccine for school-age children and adults at high risk, including college students, healthcare personnel, and international travelers
Laboratory evidence of immunity
Laboratory confirmation of measles
Birth before 1957 – If you were born after 1957 you need at least one dose of measles vaccine unless a laboratory confirmed that you had past measles infection or are immune to measles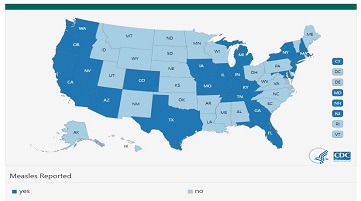 Make sure your healthcare staff is protected with the proper procedures to help prevent the spread of measles cases. If you're unsure where to start, check out our infection control program specifically designed to help reduce the risk of patient and employee infection in your medical or dental practice.
CDC Data
Reference and resources – https://www.cdc.gov/measles/index.html