OSHA:  The heat is on….
Summer temperatures spiked higher than usual in some areas, and now the cooler months of Fall are approaching. Some employees feel that winter is year round at their facility because the thermostat always seems to be set for FRIGID.  So how do you keep everyone happy and find a comfortable temperature for everyone?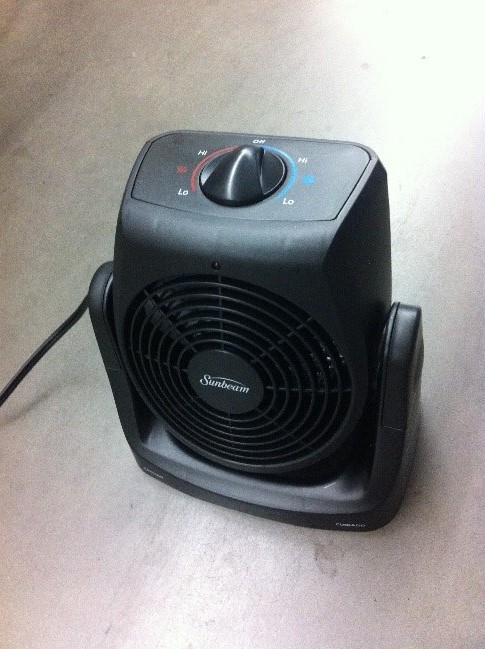 On a frigid day, it nice to get warm and cozy, but you may not have the privilege of setting the thermostat at work like you do in the comfort of your home. If you are one of the hot natured folks, the cooler temperatures are perfect for you. However, the cold natured folks are trying to decide how to get through the work day without shivering. Some wear sweaters and others crank up the space heater.
If space heaters are allowed in your facility, make sure the heater meets OSHA's regulations.
Make sure there is proper ventilation 1926.154(a)(2) and adequate clearance from combustible material (12 or 36 inches depending on heater type) 1926.154(b)(2).
Do not set heaters directly on wooden floors or other combustible materials.
Use heat insulating material or rest it on at least 1-inch of concrete. 1926.154(b)(3).
Here are some tips from the Electrical Safety Foundation International (ESFI).
Employees should be required to obtain approval from a supervisor or facility manager prior to using a space heater at work.
All space heaters should have the certification of an independent testing laboratory.
Proper placement of space heaters is critical. Heaters must be kept at least three feet away from anything that can burn, including papers, clothing and rugs.
Locate space heaters out of high traffic areas and doorways where they may pose a tripping hazard.
Plug space heaters directly into a wall outlet. Do not use an extension cord or power strip, which could overheat and result in a fire.
Do not plug any other electrical devices into the same outlet as the heater.
Do not leave operating space heaters unattended. They should be turned off and unplugged at the end of the work day or whenever the employee leaves the room.http://www.esfi.org/resource/heating-things-up-at-the-office-149
HIPAA:  Small Breach, No Problem?
Since the inception of HITECH and HIPAA, we rarely hear about breaches involving less than 500 patients. For this reason, many covered entities may not take HIPAA compliance as serious as they should.  Some lack HIPAA policies and a Notice of Privacy which are required. Do you think small breaches go unnoticed?  Would your office be prepared if OCR decided to investigate a breach that involved less than 500?
According to several news outlets, the Office of Civil rights recently announced plans to devote more resources to investigate smaller breaches. The goal is to find the root causes of incidents affecting fewer than 500 people because breach scenarios continue to afflict the healthcare industry. According to Healthcare IT News, OCR will prioritize according to the size of the breach. Considerations include whether any unencrypted PHI was stolen or improperly disposed of, unwanted intrusions such as hacking, malware, phishing, and the nature and sensitivity of the data involved. They will also concentrate on incidents at organizations where "numerous breach reports from a particular covered entity or business associate raise similar issues."
Perhaps OCR is onto something here. Getting to the root cause may ultimately decrease the number of breaches in the long run. Until then, covered entities of any size should exercise due diligence to ensure protected health information is secure.  http://www.healthcareitnews.com/news/ocr-more-actively-investigate-smaller-data-breaches