OSHA: Orientation Checklist
How long has it been since you hired a new employee? Did you cover all the basics to get them started? Or did you have endless questions from your new employee about things you forgot?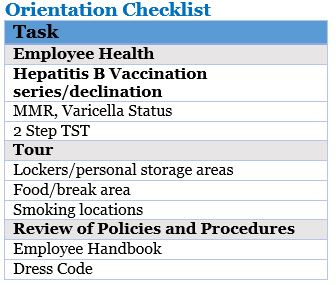 Orientation checklists are a great tool to have on hand for new employee training. They are especially useful when you are crunched for time. As part of your practice's compliance culture, be sure to include OSHA training and Hepatitis B vaccination or declination paperwork. If you have a TMC OSHA manual, the checklist is provided for you under Forms.
HIPAA: Expired Authorizations
An angry patient just came into the office because his ex-wife received a call about his upcoming appointment. On review, you see that his ex-wife is listed as authorized to receive calls, but the man tells you that all authorizations expire within a year. Is this true?
No. All authorizations do not expire within a year.  However, the Privacy Rule does require an expiration date or event. You may stipulate that authorizations remain effective either until it is revoked by the patient or within a certain time frame of the authorization being signed. That time frame could be any number (i.e. 1 year, 90 days). There are times when State law is restrictive and could control how long the authorization is effective.
In this scenario, the facility has proof that the authorization is effective because the patient never sent a request for revocation.