Written Respiratory Protection Plan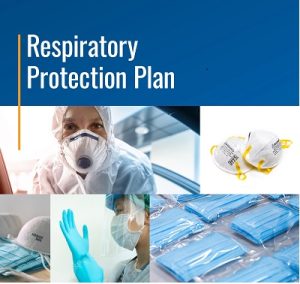 OSHA requires employers to develop and implement a written respiratory protection program when employees are required to use respirators to protect against exposure to certain airborne contaminants.
Total Medical Compliance has developed a plan to assist healthcare providers in addressing the risk associated with exposure to airborne transmitted diseases such as COVID -1 9.
This written plan meets the requirements listed in the Respiratory Protection Standard 1910.134 and supports practices/facilities implementing air-purifying respirators listed below who will utilize qualitative fit testing with either Saccharin or Bitrex.
Filtering facepiece respirator (FFP)
Elastomeric half facepiece respirator
Loose-fitting or tight-fitting powered air-purifying respirator (PAPR)
Several key elements are addressed in the plan
Process for respirator selection through the hazard assessment process
Medical evaluation prior to use of a specific respirator
Fit testing and the appropriate use of respirators
Training requirements
Checklists for implementation, fit testing, and documentation forms
The written program is supported by a recorded webinar to help with customization and implementation.
Package includes:
An electronic copy of the Respiratory Protection Plan in a Word or PDF format
Additional support for customization and implementation of the written plan provided by TMC through live and/or on-demand webinars.
NOTE: Fit testing of respirators is required prior to the use of the device. Due to increased demand during the COVID-19 pandemic fit testing equipment has limited availability for purchase.