Electronic OSHA and HIPAA Manuals
Managing Your Practices:  Electronic OSHA and HIPAA Manuals
At Total Medical Compliance, we understand that maintaining compliance can feel like you are in a maze. We can help you manage that maze with our electronic OSHA and HIPAA compliance manuals for dental and medical practices. Gone are the days of tracking paper updates!
Not only are our manuals electronic, but they are also updated in real-time. All you need is internet access and you will gain real-time entry to the latest and greatest compliance manuals. Our electronic manuals are affordable, comprehensive guides designed to give your practice peace of mind.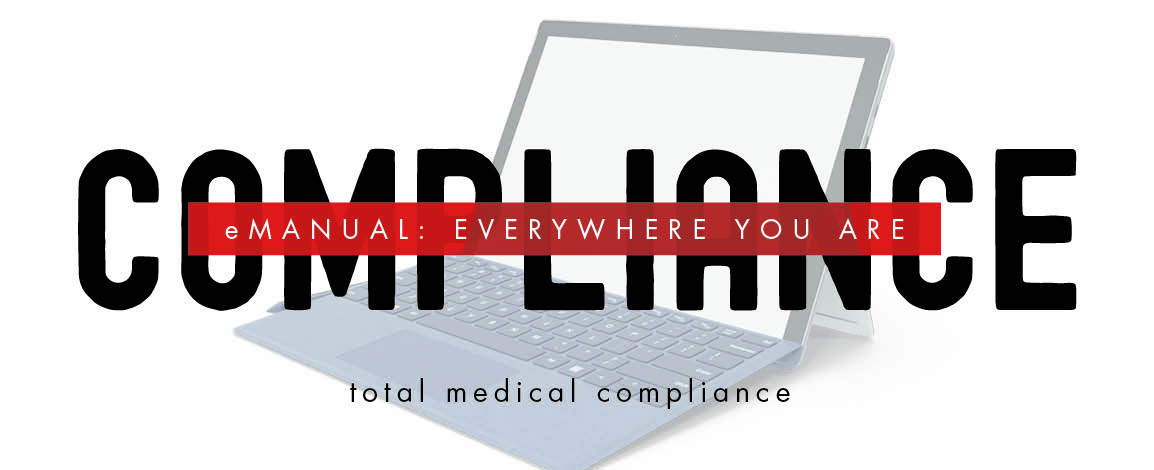 Electronic OSHA Manual
Our electronic OSHA manual breaks down OSHA regulations and includes information on current laws and regulations including:
Safety Officer daily responsibilities
Required OSHA regulatory information
Resource guides on infection control, TB exposure and more
It also provides an easy and efficient way to keep your medical or dental practice compliant by providing required plans for your office such as:
Bloodborne pathogens
Hazard communications
Tuberculosis plan
Hazardous drug plan
Emergency action plan
Electronic HIPAA Manual
The TMC electronic HIPAA compliance manual provides the same ease and convenience as our OSHA manual. Plus, it's customizable! The manual supports your practice's Privacy Officer by providing electronic forms that can be personalized to meet your specific needs. It includes:
Documentation required by HIPAA regulations on privacy, security, and employee policies State laws and regulations that relate to HIPAA
Notice of Privacy Practice, BA Agreements, and other sample electronic forms
TMC Clients:  $215    Non TMC Clients:  $300
Additional locations are $55 each year.
eManual Renewals are $55 each year.